For over 60 years the Best Percussors and Mechanical Massagers Worldwide!
G5® Modalities do not necessarily replace traditional manual techniques, but instead, help therapists to become more effective reducing the effort involved, especially when performing deep massage or percussion routines.
G5® ARE THE ONLY MASSAGERS WITH DIRECTIONAL STROKING® AND DIRECTIONAL PERCUSSION™ ON THE MARKET!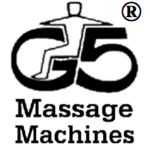 G5® Massage Therapy Systems have been the Gold Standard in Beauty,  Physical Therapy,  Respiratory Therapy  and  Sports Medicine since 1957!
For the past 6 decades G5® medical devices, percussors and massage machines have been recognised as the most powerful, reliable and durable equipment in the world with reports from many Naturopaths, Chiropractors and Beauticians still using their 40+ year old units on a daily basis.
Today, with more than 100,000 G5® massage and percussion products sold worldwide, the G5® brand of products has become firmly established as part of the basic equipment of Professional Therapists in the fields of Respiratory therapy; Physical Therapy; Chiropractic; Sports Medicine; Spa and Beauty Salons throughout the world.
G5® Electro-mechanical massagers are successfully used in Spa and Beauty Salons for
Cellulite Reduction
Lymphatic Drainage
Slimming and Body Contouring treatments.
G5® Percussors are an excellent choice for Respiratory Therapy, used by respiratory therapists world-wide.
They provide Directional-Stroking® and Directional Percussion™ in order to dislodge and liquefy viscous secretions.